Formas de Ayudar a Chile por el Megaincendio
El desastre es gigante y todos podemos hacer algo en la medida de nuestras posibilidades, en este post La idea es recopilar algunas alternativas para ayudar a Chile por el megaincendio que está afectando el centro sur del país, el foco esta en formas online y también en lugares dentro del Gran Valparaíso y Gran Santiago. Iremos actualizando a medida que revisemos nueva información y por favor si tienen más alternativas que nos quieren compartir la pueden comentar o enviar a través de nuestras redes sociales.
Desafío Levantemos Chile (includes money transfer from abroad)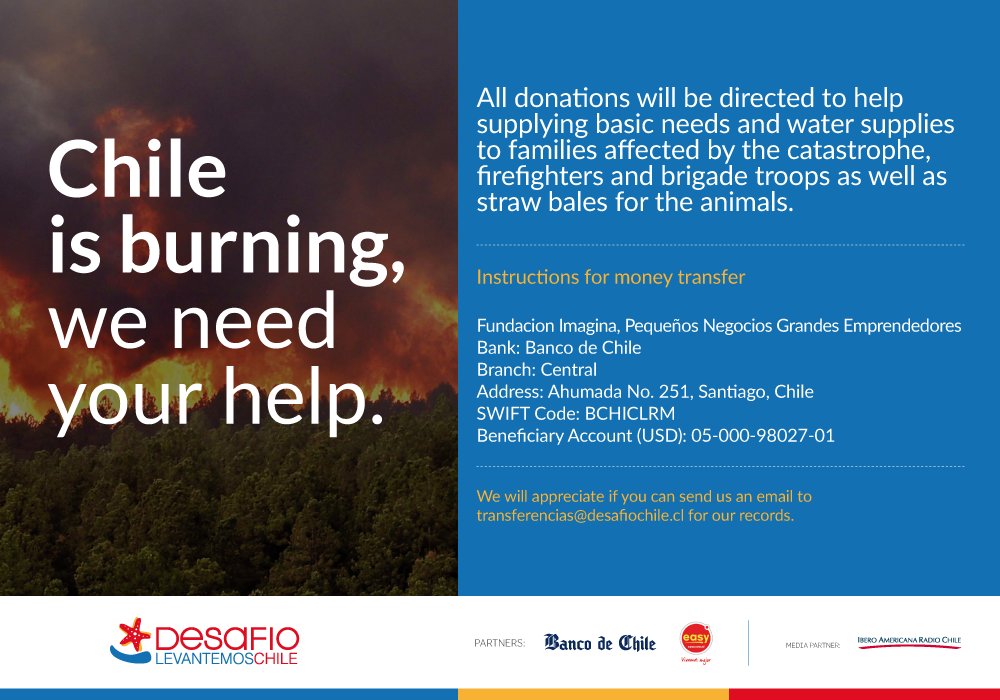 We developed a management model that works in crisis scenarios which has allowed us to aid lots of communities, offering our knowledge, experience, creativity, energy and desire to help , along with providing fast and effective solutions.
Juntos por Chile
El desafío es recaudar 1.000 millones para equipar 2.000 hogares, tu aporte se traduce en un Kit Casa Básica para los damnificados. Todos #JuntosPorChile
Valparaíso solidariza con el sur
Reforestación
Centros de Acopio Región Metropolitana
En el caso de las personas, se pide mayormente agua, alimentos no perecibles, pañales, útiles de aseos e insumos médicos, como mascarillas o guantes.
Para los Bomberos, se están pidiendo bebidas isotónicas y barras de cereal para permitir una mayor alimentación.
Santiago
Centro Comunitario Carol Urzúa ubicado en Av. Santa Rosa 1727
Gimnasio J. Manuel López (Santa Elena 1675, sector Ñuble)
FECH, Periodista José Carrasco Tapia #75
Vitacura
Municipalidad de Vitacura, Bicentenario 3800
18a. Compañía De Bomberos en Gerónimo De Alderete #1218
Providencia
Centro Alicia Cañas: Av. Italia #1182
Centro Juventud Providencia: Avenida Manuel Montt #101
Desarrollo Social: Avenida Eleodoro Yáñez #1947
Ñuñoa
Sede Orca Chile (Alcalde Jorge Monckeberg 595, Ñuñoa)
La Florida
Rescate Social (Salida de Vicuña Mackenna a la altura de Mall Florida Center)
Conchalí
 Avenida Cardenal Caro #1593 Población Juanita Aguirre
Quilicura
 Sede Quilicura del cuartel de Defensa Civil de Chile. O'Higgins N°281-A, a un costado del Banco Estado
Cerro Navia
Casino de la Municipalidad de Cerro Navia, Del Consistorial #6645
*Todas las compañías del Cuerpo de Bomberos de Santiago (PINCHA AQUÍ PARA VER SUS DIRECCIÓNES)